kinot registration
KINOT LIVE with Rabbi Fohrman
Come join us for a meaningful, in-depth discussion of Kinot. This exclusive
LIVE

Premium Webinar will transform your Tisha B'Av!
Tisha B'Av Morning - July 30, 10am ET - 1pm ET
Join Premium for Access
This event is an exclusive offer for our Premium members.
Upgrade to Premium today to reserve your spot.
New to Aleph Beta? Discover all the amazing benefits of Premium membership here.
Happening Now. Don't Wait to Join.
Until the Kinot Event Starts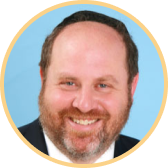 Rabbi David Fohrman
Is the founder and CEO of Aleph Beta, a non-profit media company that produces high-quality Torah videos highlighting a unique methodology in studying Torah text in a way that is both intellectually rigorous and emotionally engaging. Rabbi Fohrman also lectures internationally on Biblical themes. He served as a senior writer and editor for ArtScroll's Schottenstein Edition of the Talmud, and taught Biblical themes at Johns Hopkins University. Rabbi Fohrman's recorded lectures and animated videos are available at www.alephbeta.org. His published works include The Beast That Crouches at the Door, The Queen You Thought You Knew, and The Exodus You Almost Passed Over.
---
Joined By:
Beth Lesch
Beth has been a Scholar at Aleph Beta since 2016 (her dream job!). She has written parsha and holiday guides, been a host on the Parsha Lab podcast, and authored many parsha videos.
Ami Silver
Ami is a writer, research scholar and content creator at Aleph Beta. He is a Rabbi and Psychotherapist living, working and writing from Jerusalem.
Don't Miss Out on This Inspiring Tisha B'Av Experience!
Join us live for Kinot with Rabbi Fohrman, Beth, and Ami, and discover the deeper meanings of these beautiful prayers.
Join Premium for Access