BEHIND THE SCENES
TISHA B'AV AFTERNOON
JULY 18, 3PM - 4PM ET
BACKSTAGE PASS
with
Rabbi Fohrman
Join Rabbi Fohrman and Immanuel Shalev for an in-depth look at this year's Tisha B'Av video. Engage in meaningful Tisha B'Av conversation and discover the vast amount of material that didn't make the final cut.
This exclusive LIVE Producers Circle Event will give you a chance to go behind-the-scenes and interact with the visionaries of Aleph Beta while enhancing your connection to Tisha B'Av. Partner with us and join Aleph Beta's inner circle.
Join The Circle
This event is an exclusive offer for our Producers Circle members.
Support the Torah you love by becoming a Producer and partnering with us.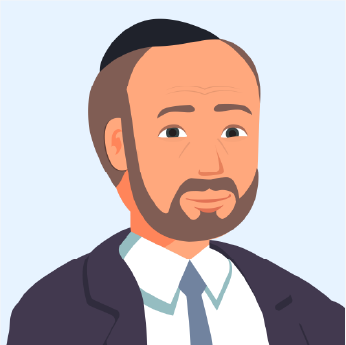 Rabbi David Fohrman
Founder and Lead Scholar
is an internationally renowned lecturer on biblical themes, and the founder and principal educator at Aleph Beta. He has served as an adjunct professor at Johns Hopkins University, and as a lead writer and editor for ArtScroll's Talmud translation project. Rabbi Fohrman has also served as scholar for the Hoffberger Foundation for Torah Study. He is the author of The Beast That Crouches at the Door, a finalist for the 2007 National Jewish Book Award, The Queen You Thought You Knew, and The Exodus You Almost Passed Over. His most recent publication is Exodus: A Parsha Companion, the second of a five volume set on the weekly Torah portion.
Joined By:
Beth
Beth has been a Scholar at Aleph Beta since 2016 (her dream job!). Before coming to Aleph Beta, she studied at Midreshet Rachel v'Chaya and Nishmat and directed Ma'ayan: Torah Study from the Sources. She recently moved to Jerusalem with her husband and children to begin a new adventure.
Daniel
Daniel Loewenstein is a researcher and content creator at Aleph Beta. He also recently earned a PhD in Education and Jewish Studies from NYU Steinhardt, and is an alumnus of the Azrieli School of Jewish Education and Skokie Yeshiva. He lives in Woodmere, NY.
Ami
Ami is a writer, research scholar and content creator at Aleph Beta. He is a Rabbi and Psychotherapist living, working and writing from Jerusalem
with
Andrew Galitzer
creator of Parsha Comics
Exclusive Tisha B'Av Class
for Children of Webinar Attendees
JULY 18, 12PM - 1PM ET
Register for Kinot Event to Gain Access
kinot registration
KINOT LIVE
with
Rabbi Fohrman
Come join us for a meaningful, in-depth discussion of Kinot.
This exclusive
LIVE

Premium Webinar will transform your Tisha B'Av!

Join Premium To Access

This event is an exclusive offer for our Premium members.

Upgrade to Premium today to access.
TISHA B'AV MORNING
JULY 18, 10AM - 1PM ET
Not sure who will watch the kids? All attendees will receive access to an exclusive, LIVE, Tisha B'Av themed drawing class for children, with AND-I-DREW, 12 PM ET - 1 PM ET.
Don't Miss Out on These Deeply Moving
Tisha B'Av Experiences!