Seeing Layers In The Ten Commandments
What Is The Ten Commandments' Underlying Theme?
---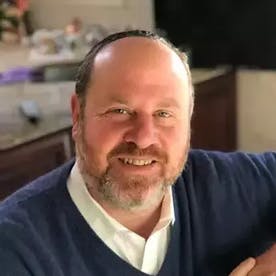 Rabbi David Fohrman
Founder and Lead Scholar
How do the Ten Commandments still apply today? After all, most of them are not difficult to observe – "don't steal… don't kill" – these are not laws you need to think about daily. So do we actively apply the Ten Commandments in our lives – or is there a deeper theme that we're missing?
Join Rabbi Fohrman as he re-examines and simplifies the Ten Commandments to uncover the main themes. The Ten Commandments have a breadth of meaning hidden in its words that indicate an enormous amount about the way we should live our lives today.
By simplifying the layers, we can begin to uncover what is the central idea that lies at the heart of all the Ten Commandments – a theme that has an incredible influence on how we should manage all of our relationships.
---
Transcript
This is Rabbi David Fohrman, welcome to Parshat Va'etchanan.
When is the last time you had a moral dilemma, something that you are really struggling with and you looked at the Ten Commandments for guidance? I don't know, I think not that many of us would say that we have. I mean take commandment number 6 for example, 'do not murder'. How is that commandment relevant to you?
Do the 10 Commandments Still Apply Today?
When we think of
the Ten Commandments as a whole
, we think of a document that we revere, some kind of symbol for Judaism as a whole for morality and western civilization – but how much does this document matter in your very own life on a day to day basis? Or maybe not, maybe these are just things that moral society, the Jewish society is supposed to be based on in some broad kind of way.
I want to suggest that they are supposed to matter to us, we are actually supposed to find guidance on how we live, each and every day from this document. Parshat Va'etchanan contains the Ten Commandments and I want to discuss them with you here today. What I would like to suggest that there is this tremendous amount of meaning in this document encased in its structure and that there are levels to this structure.
In particular, I would like to suggest that there are three levels of structure that exists within this document and they layer on top of each other. You can't see the second layered structure until you have seen the first, can't see the third until you have seen the second.
The first layer of structure is remarkable, the second, well that's really something and the third is pretty mind blowing but in order to get started you have to begin at the beginning and let's start that now.
Simplifying the 10 Commandments into Central Themes
When you look at any old representation of this document, the first thing that strikes you is that there are two tablets. Why do there have to be two tablets? I mean if you were Moses, going down the mountain, it would be a lot easier if there was one tablet carry.
Imagine Moshe say to God, 'Look God, just put in 10 point type and see if we can get all on one tablet God. It would be lot easier to get down the mountain.' But in fact, there are two tablets. That tells you something, it tells you that there are two different kinds of laws being represented here. We just have to figure out what the categories are.
Well, many of us, at some point of our life, learned that the commands on the Ten Commandments govern two kinds of relationships. The first tablet, governs relationships between people and God and the second tablet governs relationships between people and other people. Well, let's actually take a crack at testing this hypothesis.
Let's go through the first five commands, are they relationships between men and God?
Well, 'I am the lord, your God', that's number one. That's certainly a relationship between men and God.
'Do not have any other Gods before me', prohibition against idolatry, also relationship between men and God.
'Don't take my name in vein.'
'Honor the Sabbath and keep it holy', all of these are relationships between people and God, except for the fifth one.
'Honor your father and mother.' Last I checked your father and mother were people.
It's really four and six, the first four are in fact, relationships with people and God; and if we just take that last one, just switch it over to the other tablet, we will be fine.
It doesn't seem like the first tablet is really about relationships between people and God. It's about relationships between people and whom? What is the common denominator between God, the one who's relating in the first four, and parents, the one who's relating to the fifth? And the common denominator that seems to emerge is that parents and God are both your creators.
We have a heavenly creator God and we have earthly creators that we call parents. The first tablet is my relationships with those kinds of beings, those who have created me – and if you think about the nature of my relationships with my creators, there is a certain quality that attaches to that kind of relationship.
You can sort of visualize it if you would imagine sort of a modern art painting that you were putting together and you put yourself in the middle of the painting, where would you put your creators? You put my creators above me. They are above me, they are authority figures, they are authority figures in an essential kind of way.
My boss might be an authority figure but he just happens to be my boss. If I leave the company, he is not my boss anymore. You don't leave the company with your parents, you don't leave the company with God. They are your creators, they are fundamentally above you.
You want to rise to their expectations but that means that the second tablet, the other five commands are relationships between people and who? Relationships between people and your peers. Everybody else who is not my creator, who I am fundamentally equal to.
The Simplified Theme Behind the Commandments: Relationships
We might say that you have vertical relationships, relationships that go up and down, on the first tablet, horizontal relationships on the second and right here, we really have our first layer of structure. Two tablets, two categories; and this puts us in a position to be able to discern as second layer structure.
We have got these two tablets, with two different kinds of relationships and then you know, there just happens to be five commands on each tablets. It kind of makes you wonder, maybe in some essential kind of way, the commands on one tablet connect to the commands of the other. Maybe they are mirror images of each other.
Now, if this were really true, this would be a huge deal. What it would mean is that in some kind of deep way there really aren't 10 commands here, there's really only five. There are five basic principles of relationships.
What Is the Central Theme of the 10 Commandments?
Those five basic principles have 10 different expressions because each principle expresses itself in two different worlds, in the world of my relationships with my creators, on the one hand, and the world of my relationships with my peers on the other. Since those two worlds are each a little different from the other, the expression of each principle looks a little bit different – but the principle itself is the same.
To discern the principle, all you really have to do is just draw a line and match up the commands. Ask yourself, what is the common denominator in these commands? And then you would understand these principles, the five fundamental principles of all relationships.
Now, in my remaining time with you, I want to start you off on a kind of adventure. I will show you what I mean by going through the first one or two with you and then challenge you to find the rest. When you have found them, you will see the second layer of structure and then, you will be ready to see the third.
If you can, in fact, isolate the five principles the next thing you have to ask yourself is how do those five principles relate to each other? Does A lead to B, to C, to D, to E? Let's jump in and see how it might work.
Understanding How the 10 Commandments Apply Today
Commandment number one on each side, 'I am the lord, your God', first command on the first tablet. 'Do not murder', first command on the second tablet. In some fundamental way these are the same things, how is that so?
Well, ask yourself this, why is it that any of us might be tempted to murder anyone else? Where does the desire to murder come from? Now a desire to murder comes from lot of different things, right? You might owe me money, I might owe you money. You might be in love with my wife, you might hate my wife. I could want to kill you for any one of zillion different reasons but the common denominator for all of them is that if you lie awake in bed at night and you say to yourself, 'I think my life would be better off without Bob in this world,' the second you say that you have a challenge.
Are you going to get rid of Bob? Bob is inconvenient for you, will you just get rid of him? The temptation for murder is born in that statement, 'I think my life would be better off without Bob'. Now could you imagine a similar statement about your creator? 'I think my life would be better off without my creator in the world' – and the answer is yeah, there are certain advantages living without a creator, there are no expectations, I could do whatever I want.
So you could imagine some of them might want to get rid of God, might want to kill God. The only problem is you cannot kill God but if you wanted to, if you wanted to get rid of God but couldn't get rid of him objectively, you could still get rid of him subjectively, you could ignore him. With respect to me God, as if you don't exist. You could fail to recognize God. It is the same thing as killing. It is just killing is when you objectively get rid of someone. Ignoring is when you subjectively get rid of them.
The first command is don't do that. Don't do it with respect to your creators, don't do it with respect to your peers. When you come to the conclusion that someone is inconvenient in your life that you would like to get rid of them, do not give in to the temptation to do so. Do not get rid of them objectively by killing them, do not get rid of them subjectively by ignoring them. Instead, the first principle of relationships: deal with the existence of the others even if they are inconvenient.
What might the second principle be? 'Do not have any other Gods before me', on tablet number one. 'Don't commit adultery', on tablet number two. Idolatry and adultery, they even sound the same in English and fundamentally they are about the same thing.
Don't betray a sacred relationship. There are two sacred relationships in life, between people and their creators, we call it worship. Between people and their peers, we call it marriage. Something about those relationships demand exclusivity and must not be compromised by mixing in someone else that doesn't belong.
What Is at the Heart of Each of the 10 Commandments?
I am just about out of time here but I want to challenge you to continue this quest. Can you identify the third principle, the fourth principle, the fifth principle and can you begin to see the relationships between all five of these principles? What is the document really about? What are these principles that animate our most basic relationships?
If, after you go through this, you'd like to see my thoughts on it, I invite you to take a look at the meal-length course that we put together on AlephBeta.org about the Ten Commandments, the Hidden Structure Of The Ten Commandments. And in the meantime, I want to wish you a Shabbat Shalom and the very best of fortune as you embark on this adventure to unravel the secrets of the Ten Commandments.
---