Israel's Psychological Journey
Israel's Inner Journey Throughout The Wilderness
---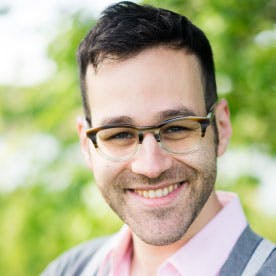 Parshat Masei begins with a recap of everywhere Israel has been so far on their journey throughout the desert. And you have to ask: who cares? Why is this here? As we've discussed many times, the Torah is not just a list of laws and stories. Each piece is meant to teach us some sort of timeless lesson. How does this travel log do that?
---
---
Transcript
Welcome to Parshat Matot-Masei. Parshat Masei begins with what appears to be one of the most boring, uneventful chapters in the whole Torah.
The Story of the Israelites in the Wilderness... Again?
It's a travel log, a recap of sorts, of everywhere Israel has been so far on their journey throughout the desert.
וַיִּסְע֥וּ בְנֵֽי־יִשְׂרָאֵ֖ל מֵרַעְמְסֵ֑ס, The Israelites set out from Rameses,
וַֽיַּחֲנ֖וּ בְּסֻכֹּֽת׃, and encamped at Succoth.
וַיִּסְע֖וּ מִסֻּכֹּ֑ת, They set out from Succot
וַיַּחֲנ֣וּ בְאֵתָ֔ם , אֲשֶׁ֖ר בִּקְצֵ֥ה הַמִּדְבָּֽר, and encamped at Etham, which is on the edge of the wilderness.
And the whole parsha continues this way. They left here, they encamped there. And you have to ask: who cares? Why is this here? As we've discussed many times, the Torah is not just a list of laws and stories. Each piece is meant to teach us some sort of timeless lesson. How does this travel log do that?
You might say, well, it's not just a travel log. There are a few events referenced – events that happened at some of these places. For example, when the text mentions that the people encamped at a place called Hor HaHar, we're told that Aaron died there. But, there's still something odd about the events mentioned.
Imagine that you were the Desert Chronologer, and you were writing a summary of the nation's travel log. You're mostly just listing places – but if you were allowed to include a few events, what kind of events would you pick? Probably the most epic events, right? Like, Divine Revelation, the Golden Calf, or the sin of the spies. But actually, none of those are included!
In fact, in this long list of encampments, the text references only three events! First, the text tells us about when the people has just left Egypt, had encamped at Refidim, and had no water. Then, we're told about two events that took place 40 years later, at Hor HaHar: that Aaron died, and then, that the Canaanite king of Arad heard that Israel was coming. That's it! Not only are the major stories missing, but the few that are mentioned seem to be pretty inconsequential, and so random!
Let's delve into the mysteries of the travel log. This week, on the Parsha Experiment.
Hi, I'm Imu Shalev, and welcome to the Parsha Experiment.
We want to suggest that the events included in Masei aren't random. In its recap, the Torah isn't interested in retelling the big events; it's actually telling a different kind of story – the story of Israel's spiritual and psychological development. Once we unpack each of these events, we'll see that each story is a step along Israel's inner journey throughout the desert.
Israel's Inner Journey Through the Wilderness
Let's start with the first, Refidim. The text tells us very simply, וַיַּחֲנוּ, בִּרְפִידִם, וְלֹא-הָיָה שָׁם מַיִם לָעָם, לִשְׁתּוֹת. And they encamped in Refidim, where there was no water for the people to drink.
But back in Parshat Beshalach, when we hear this story for the first time, we actually hear it in much more detail. The people didn't have water, so they complained to Moses. They said, why did you bring us out of Egypt, to kill us and our children and our cattle with thirst?
Of course, that question seems odd to us, reading the story. How could they doubt God so quickly after He had just saved them so quickly? But as we mentioned back in Beshalach, the people weren't really doubting the existence of God. There was an underlying issue that was really bothering the nation.
After God helped Moses resolve the issue – Moses hits the rock with his staff, and out gushes fresh water – the text tells us what their struggle was really about. In summarizing the episode of Refidim, the Torah characterizes their struggle as: הֲיֵשׁ יְהוָה בְּקִרְבֵּנוּ, אִם-אָיִן – is God really amongst us, or not? The people believed in God, but they weren't quite sure that God was with them.
When the people left Egypt, they were terrified. They had just witnessed a very powerful, but also destructive, God, who annihilated Egypt in plague after plague. Egypt was the most powerful polytheistic nation in the world. It made sense for God to do battle with them. But why should God take care of us? We're just a small nation. When we need water, will He really be there for us?
So how does God answer them? He tells Moses, I know the people are feeling insecure about whether I'm with them. So עֲבֹר לִפְנֵי הָעָם – pass before the nation, and make sure they see. And then, take your staff, matcha, אֲשֶׁר הִכִּיתָ בּוֹ אֶת-הַיְאֹר, the one that you once used to plague a water source. Now, I want you to take that same staff, and use it to provide water, lovingly, for my people. The same way that I was with you in Egypt, I'll be with you here. I love you, and I'll never leave you.
So why was Refidim, this seemingly random story, given space in the travel narrative? Because Refidim wasn't just another stop – it was actually a turning point in Israel's relationship with God. Before, they asked, הֲיֵשׁ יְהוָה בְּקִרְבֵּנוּ, אִם-אָיִן – is God really with us? And when He provides them with water, they know, undeniably, that He is.
So the turning point at Refidim is the first event mentioned in Masei – and the next events mentioned both take place at Hor HaHar. First, we're told about Aaron's death: וַיַּעַל אַהֲרֹן הַכֹּהֵן אֶל-הֹר הָהָר, עַל-פִּי יְהוָה–וַיָּמָת שָׁם – Aaron ascended the mountain, at the command of God, and he died there. And right after, וַיִּשְׁמַע, הַכְּנַעֲנִי מֶלֶךְ עֲרָד, וְהוּא-יֹשֵׁב בַּנֶּגֶב, בְּאֶרֶץ כְּנָעַן – the Canaanite king of Arad, who dwelt in the South in the land of Canaan, heard, בְּבֹא, בְּנֵי יִשְׂרָאֵל, of the coming of the children of Israel. Why are those mentioned? Are they also turning points in some way?
Let's take a look at Aaron's death. Right before Aaron dies, interestingly, we get another story in which Israel has no water. It's strange that we have another event in Masei that seems to revolve around Israel's reaction to an absence of water. Again, Israel complains, and again, Moses gets them water from a rock. But remember, last time, they were doubting whether God would be with them. Here, they'd surely learned their lesson.
Let's listen in on what they say. The people turn on Moses and Aaron: וְלָמָה הֲבֵאתֶם אֶת-קְהַל יְהוָה, אֶל-הַמִּדְבָּר הַזֶּה, לָמוּת שָׁם – why have you brought us, God's people, to the desert to die? Hmm, it looks like they really haven't learned their lesson. What's going on here? After Refidim, don't they now know that God is amongst them? Why do they pin this all on Moses and Aaron?
In previous videos, we've talked about Israel's struggle with their leadership in the desert. We suggested that Israel is actually no longer struggling with whether God is with them – now, they're struggling with a different question: will they admit that they don't have control over their situation, and deal directly with God? Or will they lie to themselves, and treat Moses and Aaron as demigods, in an attempt to wrest back some control over their lives?
The first generation failed to learn that message, with the sin of the spies, and then with Korach. But can their descendants, this new generation, learn what their parents never could?
The first generation had died out wandering the desert after the sin of the spies. And what we see here is this new generation. Because the second water crisis takes place almost 40 years after the first. They don't start off too well. The new generation immediately blames Moses and Aaron for their lack of water, and credits them for taking them out of Egypt. Again, they treat them like demigods.
But, just like in Refidim, God uses this as a learning experience. So again, God gives Moses instructions, but this time, they're a little different. God says to Moses: קַח אֶת-הַמַּטֶּה – take the staff – וְדִבַּרְתֶּם אֶל-הַסֶּלַע לְעֵינֵיהֶם – and speak to the rock in front of their eyes.
Ah, the staff again. Remember, in Refidim, God told Moses to take take your staff, וּמַטְּךָ֗ אֲשֶׁ֨ר הִכִּ֤יתָ בּוֹ֙ אֶת־הַיְאֹ֔ר, the staff that you used to plague the Nile. Here, though, God says, הַמַּטֶּה – just, the staff. Which staff was God talking about?
The last time that a staff was mentioned is actually not Moses's famous staff that he used to perform signs and wonders. Instead, the last staff mentioned in the Torah, is at the end of Parshat Korach. Back in the first generation, when Korach had challenged Moses and Aaron's leadership, he said, we're all holy! Any of us could be the leaders!
In response, God told Moses to gather a staff, a מַטֵּה, from the leader of each tribe. Whomever I choose to be the leader, God says, מַטֵּהוּ יִפְרָח – his staff will blossom. Moses returned the next day, וְהִנֵּה פָּרַח מַטֵּה-אַהֲרֹן, לְבֵית לֵוִי – behold, Aaron's staff, the Levite staff, had blossomed! But that's not the end of the story. God tells Moses: הָשֵׁב אֶת-מַטֵּה אַהֲרֹן לִפְנֵי הָעֵדוּת, לְמִשְׁמֶרֶת לְאוֹת, לִבְנֵי-מֶרִ – leave Aaron's staff there, in front of the tent of meeting, as a sign to the rebellious. In any generation, that staff would become the symbol that Moses and Aaron act on behalf of God.
So, in Hor HaHar, 38 years later, after the sign was established, God tells Moses, use that specific staff, the symbol that I chose you...Then, when I give them water, they'll know that it's Me, and that you, Moses and Aaron, are just my agents. That first staff, Moses' staff from Egypt, that was used to prove that a destructive God can also be a giver of life. At Hor HaHar, Aaron's staff was used to prove that God was in control of everything – not His messengers.
But Moses messed up, and in so doing, fed into their doubts. He said, you rebels – הֲמִן-הַסֶּלַע הַזֶּה, נוֹצִיא לָכֶם מָיִם – do you think that we can get water out of this rock? He didn't say, don't worry, God can do this; he said notzi, the plural, "we," feeding into their suspicion that Moses and Aaron were doing the miracles, acting without God! וַיָּ֨רֶם מֹשֶׁ֜ה אֶת־יָד֗וֹ וַיַּ֧ךְ אֶת־הַסֶּ֛לַע בְּמַטֵּ֖הוּ, Moses lifts his hand, and he hits his hand... with which staff? בְּמַטֵּ֖הוּ, with his own staff. He uses the wrong staff! By what he says, and by what he does, it could look to the people as if Moses was making this happen all by himself.
This moment of the rock should have been another turning point, like Refidim, in Israel's relationship with God. But it wasn't. Instead, the people would somehow have to learn the lesson that the people weren't superhuman demigods, acting on their behalf. And that brings us to the the death of Aaron. We want to suggest that Aaron's death was about something much more significant than just the loss of a leader.
Think about it: You're a member of Israel, and you suspect that Moses and Aaron are demigods, the ones responsible for all your hardship. Whenever there's a problem, the people complain to Moses and Aaron, not to God. When Moses delays in coming down from the mountain, the people build a Golden Calf – not to replace God, but to replace Moses. The people don't see them as mere humans, as representatives of God.
Then, suddenly, Aaron dies. What would that do to you? At the very least, it would be a wakeup call. Their leaders aren't superhuman, they're mortal. And then, you'd realize, he was always just acting on God's behalf. In fact, the very reason he died is because Moses and Aaron, that one time, didn't act on God's behalf, by hitting the rock.
Aaron's death wasn't just a punishment for violating God's will. If Moses and Aaron failed to educated the people by the rock, last time, they'd have to learn it another way. וַיַּעֲלוּ אֶל-הֹר הָהָר, לְעֵינֵי כָּל-הָעֵדָה – Moses went up to the mountain with Aaron, in front of the whole nation! It was crucially important that they see him die… that's how it would educational. And look at how the story ends: וַיִּרְאוּ, כָּל-הָעֵדָה, כִּי גָוַע, אַהֲרֹן – the people all saw that Aaron died,וַיִּבְכּ֤וּ אֶֽת־אַהֲרֹן֙ שְׁלֹשִׁ֣ים י֔וֹם, and they mourned for Aaron for 30 days. Why is the first part of that verse there?
If the text only had said, "and the people cried over Aaron," would we have said, "WAIT a second – but did they see that he died??" Of course not. The text is telling us that they saw it, because that was the whole point – for them to notice it, to recognize that Aaron, whom they once accused of taking them out of Egypt, was just a mortal, an agent of God – a lesson they should have learned at Mei Merivah, the second water crisis.
So, did it work? Did the people of Israel learn the lesson through Aaron's death? That question brings us to the third and final event mentioned in Masei, right after Aaron's death, when the Canaanite king of Arad heard of the coming of the children of Israel.
Back in Chukat, we hear a little more detail on this story, וַיִּלָּחֶם, בְּיִשְׂרָאֵל, וַיִּשְׁבְּ מִמֶּנּוּ שֶׁבִי – the king of Arad waged war with Israel and took captives. Unlike every crisis until now, the people don't turn to Moses and blame him for their situation. Instead, וַיִּדַּר יִשְׂרָאֵל נֶדֶר לַיהוָה, Israel turns directly to God, and they make a vow, אִם־נָתֹ֨ן תִּתֵּ֜ן אֶת־הָעָ֤ם הַזֶּה֙ בְּיָדִ֔י, if you deliver this nation into our hands, וְהַחֲרַמְתִּי, אֶת-עָרֵיהֶם, we'll do our part and destroy their cities.
This is a groundbreaking moment for Israel. They don't turn and complain to Moses, as if he's in control. They approach God directly. Finally, they realize that it's always from God… that their leaders were just messengers. Aaron's mortality helped teach them that lesson.
The Lessons Behind Israel's Journey in the Wilderness
And now let's come back to Parshat Masei. Masei tells us kind of a summary, or analysis, as it ends the book of Numbers. אֵלֶּה מַסְעֵי בְנֵי-יִשְׂרָאֵל – on a basic level, that means: This is Israel's travel log. But maybe it means something even deeper: This is the psychological journey of Israel – the journey of their relationship with God.
In order to get to where they needed to be – a recognition of God, and a close relationship with Him – they need to struggle, to grow.
To close off the Book of Numbers, Masei tells the story of that growth, through these stops along the way: First, at Refidim, when they learn that God will be there for them. Then, when Aaron dies at Hor HaHar, and they finally see that Moses and Aaron are just God's messengers. And when Israel triumphs in war with Canaan, when Israel turned directly to God and said: God, I'm ready. Let's have that relationship.
As we look forward to Deuteronomy, and the last stage of the desert, Israel has now proven that they are ready to enter into a true relationship with God, in the land that He will give to them.
---